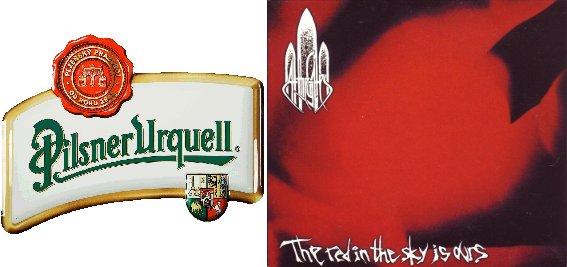 Reasoning: Both got their start in a single city, Plzeň and Göteborg, respectively, which lead to a signature taste/sound. This popularity spawned derivative acts across the pond in the form of mass-produced pale lagers and metalcore.
Beer style description: It's a pale lager brewed with noble hops
Metal subgenre description: It's now known by the more general term "melodic death metal," and that's pretty much what it sounds like.
Representative brews:
Victory Prima Pils is the only American-made pils you should drink. It may be the only pils you should drink, period.
Pilsner Urquell, the original pilsner. But only on draft. They put that shit in a green bottle! Apparently the brewers don't care about photochemistry and skunking. Fuck them.
Representative bands/albums:
In Flames — The Jester Race
At the Gates — The Red in the Sky is Ours
Dark Tranquility — Skydancer