For years, Michael Tonsmeire's blog, The Mad Fermentationist, has been one of my favorite resources for recipe ideas and information while brewing both clean and sour beers of my own.
Last July, Brewer's Publications published Tonsmeire's first book, American Sour Beer. The book is billed as an overview of the many approaches American professional and home brewers use to create beers fermented with microbes other than brewer's yeast.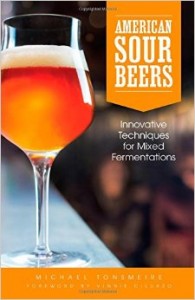 Parts of this book are like having the best bits of advice and practical information plucked from the blog and rewritten in a more clear and concise matter, while other parts provide a fascinating look at the processes that a number of the best sour beer producers in the United States (such as Allagash, Jolly Pumpkin, New Belgium, Cascade, Russian River, and others) use in the production of sour beers. As is the case with all Brewer's Association publications I've read, the target audience is both professional and home brewers, so suggestions are made for those who measure batches in barrels and those who measure batches in gallons.
As you might expect from a book that targets such a range of brewers (and such a shifty topic as wild/funky/sour fermentation), there's less in the way of strict step-by-step instructions and more of a "here are some different things that work for various people and here are some general guidelines to remember" approach. I highly recommended this book for any brewers looking to experiment with sour and funky beers. While we have yet to brew any new sours since reading the book, I have already used it to improve results when re-yeasting at bottling and plan to refer to it while planning our next project.
***
So far, we've made five forays into making sour beers and wild ales. The first two were made by pitching Russian River bottle dregs into a black saison (briefly detailed here) and a Belgian brown. The second is mentioned here, where I suggested it will "hopefully get a bit strange in a good way". It certainly got strange — several months later, we pulled a sample and it tasted exactly like fruity paint thinner. That's not a good strange. Eventually we bottled a quart of that with a gallon or two of various clean beers. After another year or two in the bottle, it turned out very nice. Sadly, I put it all in large format bottles, so I'm reluctant to open either of the two remaining bottles.
A couple summers back I made a saison with fig puree in the boil that was fermented with a mix of the Wyeast 3711 French Saison yeast and Brettanomyces claussenii isolated from a bottle of Cantillon Iris by Dmitri of BK Yeast. I am pretty sure I had unrealistic expectations for the beer, largely because I conflated the barnyard funk of Brett and the tartness of lactobacillus. I was mistakenly expecting more of the latter, and didn't sort out the right mix of fruit and hopping to make the flavor of the beer pop a bit more.
The two most recent sours we brewed started off as clean fermented Belgian-style ales. We pitched the Wyeast Roselare Blend when racking to secondary to take care of the souring. The first was another brown ale, which I aged on pinot noir soaked oak cubes and cherries. The second is a golden ale aged with white port soaked oak cubes.
Near the end of March, one of Brooklyn's homebrew shops, Bitter & Esters, held a book-signing / homebrew tasting event with Michael Tonsmeire. We brought our copy of American Sour Beer and a bottle of the second sour brown ale along. I introduced myself to Michael, explained that while I hadn't brewed any sours since reading the book, I got a lot of advice from his blog for earlier efforts. After handing him my book for signing, I asked if he'd like to try the sour I'd brought with me. He accepted, and decided to wait to write an inscription until he'd tasted the beer.
I think he liked it:
A writer for Brooklyn Magazine was in attendance, and judging by her comments in the introduction to her interview with Tonsmeire, she liked the beer as well. (Astute readers should be able to pick out a quote from Martha.)
***
If you're looking to make sours at home, check out Tonsmeire's book and blog for advice, and be very patient. Sours may not be beers you can turn around quickly like IPAs or brown ales, but you could be rewarded with unmatched levels of complexity and flavor.
Or you may just want to set it all on fire.